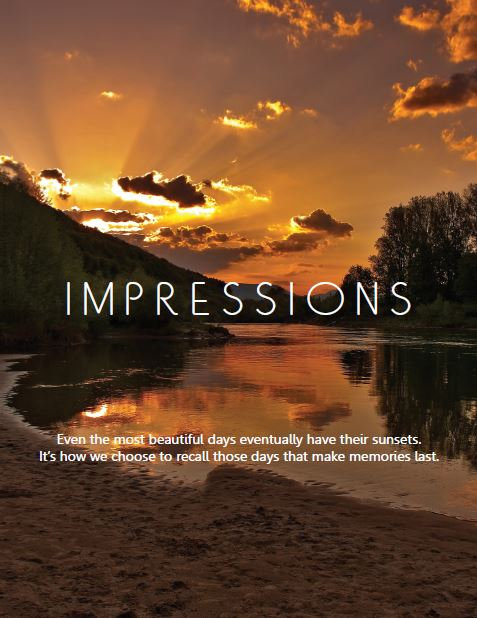 Guelph, Ontario / Livonia, Michigan
H.S. Eckels and Company is pleased to announce the launch of its brand new Impressions  cremation products catalogue. This latest edition contains a wide range of new and unique cremation urns and pendants, featuring a total of over 50 new products in this latest edition.
According to Richard Steele, president of Eckels, the catalogue has been redesigned for easier access and readability, with a wealth of new products and information.
"We are continuing to educate families about the importance of choosing a Final Resting Place within this catalogue," says Mr. Steele. "This choice will allow a family to appropriately pay tribute to their loved one and create a lasting impression in a meaningful place. Cremation allows families to choose a range of alternatives to remember the life of a loved one."
This catalogue features many new products, including:
Odessa Candle Series, Eva Series, Ribbons Series, Galaxy Series, as well as a new series of scattering tubes.
Eckels continues to break boundaries and offer unique, innovative, and custom capabilities. This is clearly illustrated with our Impressions Imaging personalization, a full color heat transfer graphic imaging process, providing full color possibilities on any urn with a flat surface.
Eckels has the ability to personalize almost any cremation urn that the family selects. We can do anything from name and dates to standard and custom images. For those urns that cannot be inscribed directly on their surface, we offer standalone engraving easels or hanging urn pendants as an alternative personalization method.
For more information, please contact:
H.S Eckels and Company
Toll Free: 800.265.8350
www.eckelsandcompany.com
Eckels and Company is a leading supplier of funeral service products to the North American marketplace. Eckels is steadfastly committed to providing the funeral service profession with a continuous stream of new, creative, and innovative products and services based on tireless research and development. Eckels always has and will continue to listen carefully to the needs of our valued clients and will provide the answers that are necessary to respond to this ever-changing environment.